Ad blocker interference detected!
Wikia is a free-to-use site that makes money from advertising. We have a modified experience for viewers using ad blockers

Wikia is not accessible if you've made further modifications. Remove the custom ad blocker rule(s) and the page will load as expected.
Tosca is from
Meerkat Manor
. She is a daughter of Flower. Tosca was a bit of a rebal, she caused her mother trouble. Tosca was pregnant, and Flower only gives breeding rights to herself. Tosca then gave birth. She was attacked by Flower, but her pups were allowed to live. Tosca was a caring mother, who tried to save her pups. When Tosca's pups were two weeks old, Yossairain caused a burrow move. He moved Tosca and Mozart's pups. He then forced the babysitters to move them. Tosca was confused of what to do. Then, Pookie saved the pups, but Flower was angry when she saw them above ground. She carried them back. Mozart was violently evicted by Flower, and was ready to evict Tosca. Tosca then was evicted. She was forced to leave her pups behind. Tosca stayed with Mozart. Mozart rejoined, but Tosca was too scared to rejoin. Tosca tracked her family for a long time. She once tried to kill Flower's pups, but Shakespeare saved them. Tosca once was spotted and the Whiskers tried to chase her off. But Tosa wouldn't move. Then, she finally ran. There was then a group split, and Tosca finally got her wish of being leader. She joined the splinter group and assumed dominance. But Flower found her. Tosca didn't want to give up leadership, so she challenged Flower. Flower won and evicted her again.Tosca then found
Carols
.They started thier own family, but Carols left her alone, and she faced the wilderness again.She sadly disappeared and was only mentioned one time in Season 2.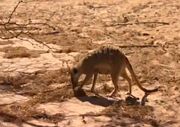 Personality: Sweet
Color: Red
Crush: Carols Favriote thing to do: Mate
Tosca likes to babysit.